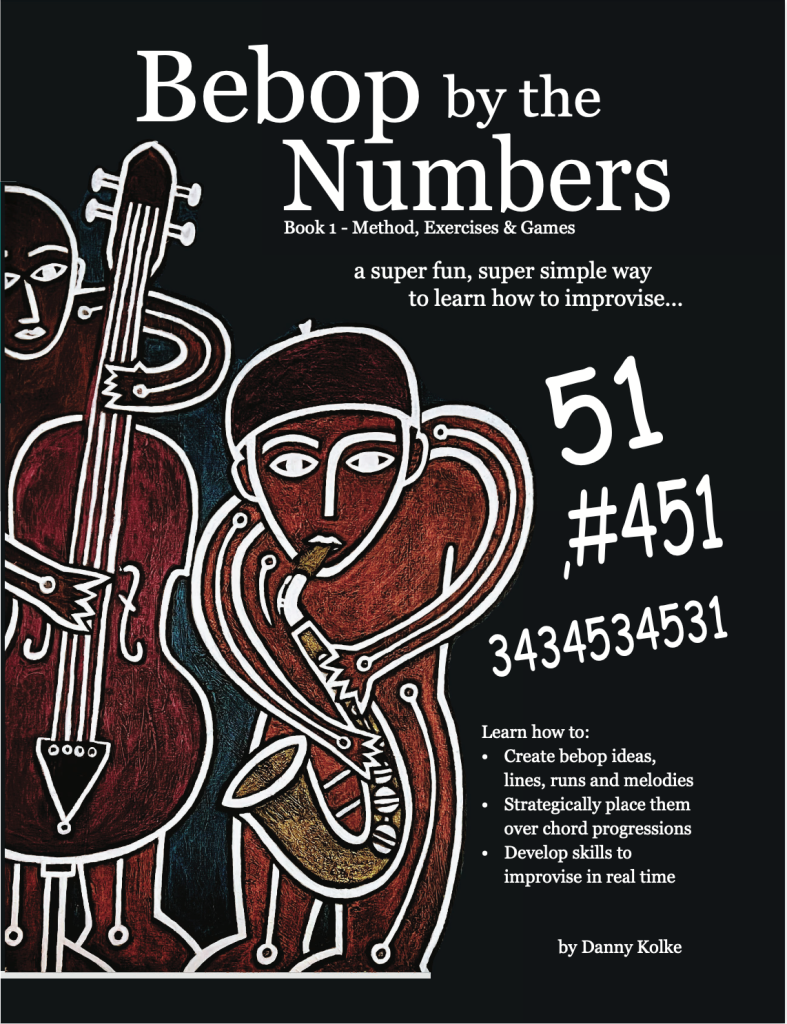 Bebop by the Numbers
Book 1: Method, Exercises & Games
a super fun, super simple way to
learn how to improvise...
In this method you are going to discover the building blocks for:
Creating Bebop ideas, lines, runs and melodies,
Strategically placing them over chord progressions,
Developing skills to create and improvise in real time,
Starting simple, creating the ability to go complex,
A sustainable method you can use to develop your skills for years to come.

Now available in 3 different versions.
Tip: If you want your book to lay totally flat, order the spiral bound version from Lulu.
Claim your 100% discount Coupon Code at checkout!
Get free access if you already own the book. Just enter the first word on page 45 as a coupon code for your free access at checkout.

What is Bebop by the Numbers?
Bebop by the Numbers is a method for teaching music creation to all aspiring musicians, instrumentalists and vocalists alike, focused on using scale degrees and repeatable building blocks and patterns to create your music. I teach Jazz mostly, so I focus on Bebop. But what you discover in these lessons can be found in all genres of music, not just Jazz.



So Why Numbers?
I guess it started with teaching improvisation to beginning jazz band and trying to write out ideas for students to play, without having to transpose everything. You see, band instruments are in different keys. I have no idea whose idea that was. As a piano player, I find it fairly crazy. I started writing things using numbers, and told my band kids to figure out what each note was. Of course I did help them if they got stuck.
I also started using numbers in teaching improvisation with my piano students. Specifically talking about the different intervals of the chords and how to embellish the one, three, the five, the seven, the nine of the chord. As I would teach riffs, I found it useful to talk about the ideas using numbers so my students could transpose them into different keys.
Numbers are very helpful. If you can think about the numbers of the scale degrees instead of the letters, you can then translate ideas to different keys more quickly. "What's the one, what's the three?" And then in the other key, it's the same question, just a different answer. You can't transpose very quickly from one key to the other without using numbers.


What Are People Saying?
"So simple to start sounding good and build from there. I wish I would have had this when I was first learning how to play jazz!"
David Hill, Jr.
Executive Coach & Musician
"I really dig how you start very small and simple and piece each idea together. Kind of like sonic legos. This is the most fun I've ever had working on bebop lines."
Jason Goessl
Professional Musician
"Bebop by the Numbers is essential to our improvisation curriculum! This method has unlocked all of our students' abilities to play changes more confidently, transcribe more coherently, and develop their own ideas with more fluency. Bebop by the Numbers allows improvisers of all ages and ability levels to sound more like the pros!"
Bill Leather
Mount Si Band Director, Musician

So That's Why...
I have also done a lot of experimenting testing who learned faster – the students who used notes and their corresponding letters, or the students who went by numbers? In my experience so far, the answer is "Numbers". Even though they may add an extra step and the students have to figure out how to play the pattern, they tend to learn more quickly, retain better and start coming up with their own ideas sooner than those who learn note by note. My theory is that it's necessary to make comparisons to play ideas. For example, "This is the minor third, and I'm going to the sixth, the sharp four, then five; I like that sound. Okay, let me try it with this key." I don't see students making those discoveries as quickly when we go note by note and ideas are written out for them.
So for these reasons, we're going to focus on learning bebop by the numbers.
Danny Kolke

Claim your 100% discount Coupon Code at checkout!
Get free access if you already own the book. Just enter the first word on page 45 as a coupon code for your free access at checkout.

Check your inbox to confirm your subscription
Get the Book: Bebop by the Numbers
Book 1: Method, Exercises & Games
Now available in 2 different versions. If you want your book to lay flat, while you mark it up and do the exercises, get the spiral bound edition from lulu.com.